As before, the other challenges will stay open until they get enough entries to vote on, feel free to skip challenges, and just do the ones you like! (Sometime down the road, there will be a four faces of Ruby challenge *grins*)
Make up to four icons
Use caps given or find your own
LJ standards
Animation is allowed
Subject: Genevieve Cortese as Ruby. Other characters can be included in the icon, but she must be a main focus. Text, textures etc, all allowed!
(
Ruby
Collapse
)
This was requested :)


Supernatural:

Sam or Dean: um...um...I'm half and half, maybe a little more Sam
Favorite recurring character: Castiel
Favorite Season: Three
Favorite Episode: Hollywood Babylon
The apocalypse: Angels/Demons/Humans: HUMANS
Best use of Music: episode "Nightshifter", STYX "Renegade" as they walk out of the building in riot gear
Best Car Song: Eye of the Tiger (esp the outtake)
Favorite Bad Guy: Ruby
Favorite Good Guy (not Sam or Dean, or Bobby) ASH
Best Holiday Themed Episode: It's the Great Pumpkin Sam Winchester


I plan on doing more of these as well, plus, we can talk about the episodes!!! Please, help get the word out :) I really want this to be an icon challenge, but maybe we can talk the show too! Do you know someone who maybe doesn't want to make icons, but might like to talk about the show, or even snag an icon or two (with permission?) Send them our way!!!
Let's play a little game. I'll answer here. You guys answer in comment (which I'll open, unless you ask me not to)


Please, turn some icons in, and feel free to find others interested in Supernatural!
So far, we have 1 entry. I'm leaving this open an extra week!
Sam and Dean must be in all icons
Challenge
#1
SPNIcontst Icons
are due the 20th! We've had 0 entries!
I uploaded a few caps here:
http://community.livejournal.com/spnicontest/1564.html
which are all season 1. They do not have to be!
You can get caps from
Screencap Paradise
up through the end of Season 4.
You can use any cap, can be animated, etc. Must be LJ format (100x100 px and 40k and under).
I'd really like to see some icons, and get this community going!
PS: My icon? It should read "Got Salt"? but never got to it *grin*
Hey guys, I want to thank you for joining (and feel free to pimp us out and get us more artists!)
Current Location:

Home

Current Mood:

sick

Current Music:

"Supernatural" ep "Faith"
Now,I know there are better caps out there, but sometimes it's easier to start a contest with caps. So here are a few, to get your motors runnin'!


We really could use some, as mine was done quickly with hopes of people going "ech, I can do better than that!"

Due March 20th.
We still have 0 entries!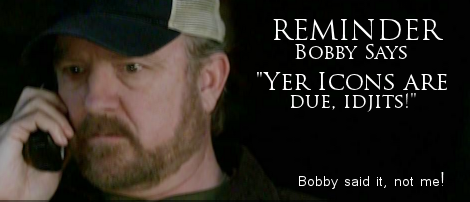 See if you can't get others to join too! Pimp us out!
And I'm looking forward to seeing your icons!
Icons are Due March 20th, at Midnight PST
(remember this is tongue in cheek, I love Bobby Singer :)
Make up to five icons
Still or animated
LJ standards apply
Due March 20th (we may have another challenge while this one goes)
Here's where to find up through S4 caps:
http://www.screencap-paradise.com/?cat=5
I'm not sure where to find S5, but go for it!
We need a group icon! It can be anyone from the show "Supernatural" and has to say on it "spnicontest".